ParallelDevs has been highlighted as one of Top Software Developers in Costa Rica!
We are very pleased to announce our inclusion in Clutch's recent press release of top B2B Latin American companies. ParallelDevs has been highlighted as one of Top Software Developers in Costa Rica! Clutch, a Washington, D.C. based research, ratings, and reviews firm, ranks companies on their site under the criteria of market research, independent ratings, as well as client reviews. Clutch obtains these client reviews primarily through interview-style phone calls.
We have been included in this release due to our high ratings from clients. We have been rated with a near perfect 4.9 out of 5 stars from our clients! In addition to this rating, Clutch ranks along a number of factors. We are pleased that we have received a perfect 5 stars from all of our clients on their willingness to refer us to another client!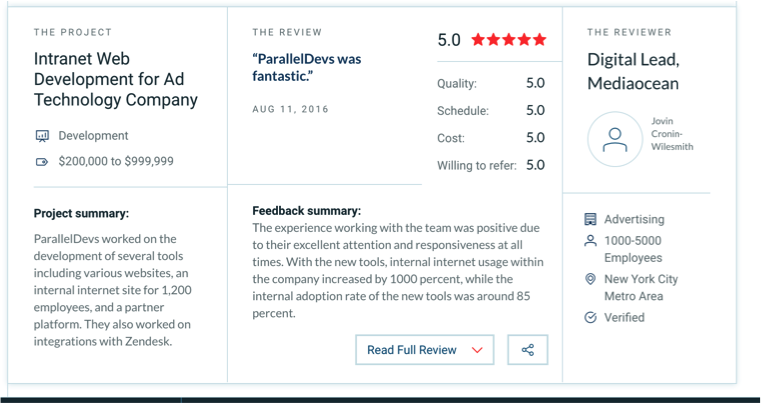 Beyond these ratings, we are pleased to share our clients written feedback from our profile. One client touched on our overall delivery by stating,  "The coding is excellent, their project management is great, and the implementation logistics and operational parts are impressive. Also, their cost reduction efforts are solid, plus the platform is great, solid and robust. They meet and exceed our expectations." We also offer great ROI on our projects. One of our other clients discussed their returns by saying, "With the new tools, internal internet usage within the company increased by 1000 percent, while the internal adoption rate of the new tools was around 85 percent."
Another client developed deeper into our working relationship by sharing, "They are very flexible people. We've had other companies that after completing the platform or system design, they are totally metric and don't allow any changes to be made. They are people with very impressive development capabilities, which helps favor the variable conditions that you encounter developing software." This commitment to great returns and a stellar working relationship we believe are what also got ParallelDevs featured on Clutch's sister site, The Manifest! This field guide lists ParallelDevs among their top web development companies in Latin America!
We are very excited with the positive feedback we have been given from both Clutch and The Manifest! You can find our full profile with our complete reviews on Clutch. Or you can contact us to start your next web development project today!